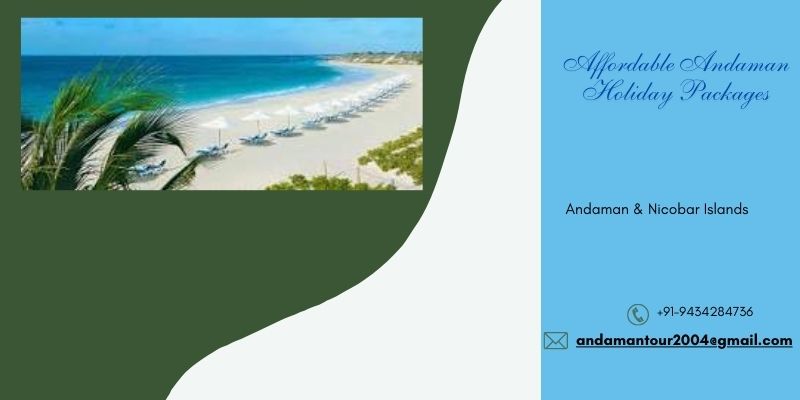 Situated in the Bay Of Bengal, Andaman & Nicobar Islands are the perfect place to explore the marine world. It has more than 500 islands that offer mind-boggling places to visit on your trip to Andaman. Whether you are looking for a romantic getaway with your partner or a fun time with your buddies, Andaman is the best destination.
If you are planning for a beach vacation but have budget constraints, then do not worry about it. Pick from the affordable Andaman Holiday Packages for the most enthralling trip with your family and friends.
Looking for a perfect Holiday package that comes inclusive of accommodation, meals, sightseeing, and ferry rides? Choose the most affordable Andaman Holiday packages that are the best in the industry covering all the top attractions and beaches. These packages allow you to experience the shimmery beaches and scenic landscapes of Andaman like a local. Holiday packages to the Andaman Islands can be easily customized based on your requirements and budget.
Here is the list of offbeat places for a unique experience on your next serene holiday to the turquoise water of Andaman -
Cellular Jail (Kaala Pani)
Radhanagar Beach
Havelock Island
Neil Island
Ross Island
Baratang Island
Mount Harriet National Park
Sitapur Beach
North Bay Island
Barren Island Volcano
Sri Vetrimalai Murugan Temple
Panchwati Waterfalls
Samudrika Marine Museum
These picture-perfect places and white sand beaches offer you a seamless walk path while wetting your feet. Also, with the availability of so many hotels and resorts, you don't need to worry about where to stay in Andaman. There are a plethora of affordable hotels that offer you a comfortable stay with a delightful experience and seafood. You can relax, enjoy, and pamper yourself at beachside property for a peaceful holiday in Andaman.
The best way to reach Andaman
The Veer Savarkar International Airport in Port Blair is the only primary airport that connects Andaman with the rest of the country. There are daily direct flights to Port Blair from major cities like Chennai, Bangalore, Hyderabad, Delhi, Mumbai, etc.
Commutation within Andaman & Nicobar Islands
The ferry is the most popular and preferred way for inter-island travel. There is an availability of regular ferry services from Port Blair to the islands of Andaman & Nicobar including Havelock and Neil. However, this boat service is quite slow and chaotic sometimes. It is always recommended to book advance tickets to avoid the long ticket-buying queues. You can opt for the services of a local tour company to secure affordable deals beforehand.
Best time to visit Andaman for an affordable holiday
The coastal paradise enjoys tropical weather throughout the year. Many tourists consider October-March, the best time to visit and enjoy beach activities and every form of water sport. It is the best time to see all the attractions and relax on the beaches of Andaman. However, the rates of the hotels and flights are quite expensive due to the peak season. If someone wants to plan a low-budget trip then pick the months from April-September. Till June, one can easily enjoy beach time, especially during the early evenings when the waves are gentle.
Andaman witnesses monsoons from June to September when the sea waves are unpredictable and humidity is at its peak. During this period, most tourists avoid visiting the island, especially those who love water sports. This off-season offers many affordable Andaman Holiday packages just to explore nature at its best.
So, now your dreamy beach holiday can turn into a reality without burning a hole in your pocket. Browse through a wide range of holiday packages that can be easily customized as per your budget and travel style.