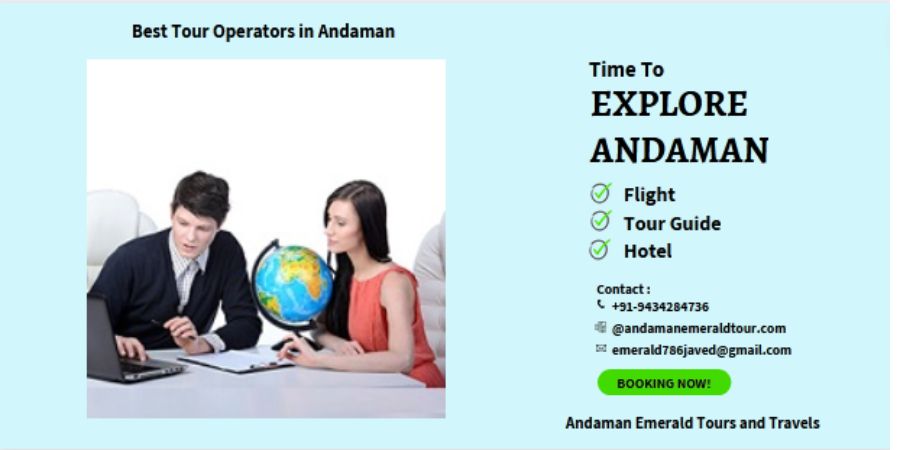 Do you have visions of a tropical paradise with immaculate shorelines, clear waterways, and an abundance of vegetation? You need to look no further than the Andaman Islands, the Bay of Bengal's hidden gem. It could be difficult to plan a vacation to this fascinating archipelago, but worry not!


When it comes to planning a hassle-free and enjoyable trip, an Andaman travel agency might be your greatest ally. Let's discuss the significance of selecting the best Andaman travel agent as well as the key elements to take into account while organising your island getaway.


Why Choose an Andaman Travel Agent?


● Local Expertise for Customized Itineraries -
An Andaman travel consultant can create customised itineraries based on your tastes because they have extensive knowledge of the islands. They have everything you need, whether you're a nature lover hoping to discover the islands' richness or an adventure seeker searching for water activities.

● Save Time and Effort -
It might be difficult to sort through the enormous selection of lodging, travel, and activity options in the Andaman Islands. By streamlining the procedure, a travel agency guarantees you don't miss any must-see locations and saves you time and effort.

● Seamless Logistics -
Travel agents in the Andaman Islands take care of all the details, including scheduling transfers flights and ferries. As a result, you may enjoy your holiday without worry. They have forged connections with trustworthy regional providers to guarantee a flawless trip encounter.


Choosing the Right Andaman Travel Agent:

● Research and Reviews -
Look around for trustworthy travel agencies that have received great feedback from previous customers. To evaluate a company's dependability and level of client satisfaction, look for testimonials on their websites and other internet platforms.

● Accreditation and Certifications -
Verify the travel agent's accreditation and certificates from pertinent tourist organisations, as this speaks volumes about their dedication to professionalism and quality.

● Transparent Pricing -
Make sure there are no hidden fees and that the travel agent offers clear pricing. In order to understand exactly what you're paying for, ask for a thorough analysis of the package.

● Customer Support -
A trustworthy Andaman travel agency should provide top-notch customer service. This is quick to answer your questions and offers support all the way during your trip.


Essential Factors to Consider for Your Andaman Itinerary:

● Selecting the Right Islands -
There are many stunning locations available in the Andaman Islands. Select islands that correspond with your hobbies and desired experiences. Neil Island has peace and a laid-back atmosphere, while Havelock Island is well known for its gorgeous beaches.

● Ideal Travel Season -
To maximise your trip, think about when is the best time to visit the Andaman Islands. From October to April, the islands are usually pleasant with calm seas and temperate weather, making them perfect for water-based activities.

● Adventure Activities -
Water activities like jet skiing, snorkelling, and scuba diving are for thrill-seekers. With its abundant coral reefs and colourful marine life, the Andaman Islands' undersea realm offers once-in-a-lifetime experiences.

● Exploring Wildlife and Nature -
The wildlife and plants of the Andaman Islands are distinctive. Don't pass up the chance to see endangered animals like the Nicobar tree shrew and Andaman wild pig in the Mahatma Gandhi Marine National Park.


Selecting the Best travel agent in Andaman can significantly impact the success of your island retreat. Their proficiency, familiarity with the area, and meticulousness have the potential to turn your trip into an unforgettable experience.


Whenever choosing an agent, don't forget to do extensive research, take client testimonials into account, and give clear pricing first priority. You may fully immerse yourself in the splendour of the Andaman Islands' mystique by adhering to these rules. So prepare to discover this little piece of heaven by packing your luggage!