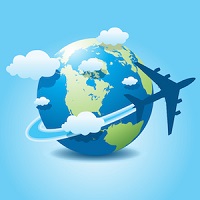 Spending a holiday in the realms of turquoise blue waters, soul-purifying serenity, panoramic view of the entrancing sky, lush plantations, and the white sandy beaches, is simply beyond the degree of satiation. Well, to encounter this perfect mix of nature's bounties, the globe-trotters from miles away fly to the captivating Andaman Islands. Be it the rains or a bright sunny day, the allurement of this island multiplies by giant strides. An Andaman travel package availed from the best travel agent in Andaman cannot disappoint anyone, as the seekers of adventure can boost their adrenaline by freaking out on paragliding, snorkelling, underwater walk, boat rides, and much more. On the other hand, the seekers of serenity can assuredly put a full stop to their tensions by chilling on the beaches whilst holding a can of bubbling beer. This Island is a perfect escape from the never-ending worries of life. So, just cast out to the tranquillising ambience of this heaven and succumb to the bliss.

Well, if you wish to make your vacation an unforgettable affair, just book a luxurious beach resort and rediscover the meaning of tranquillity. A stay at a beach resort procreates endless ways of recreation. Getting up in the morning and admiring the bustling waves and mind-cooling winds from the balcony of your suite whilst you're sipping your morning coffee, huh, don't you think it's the perfect way to start a day?

Why you should look for an Andaman travel agent?
Travel planning demands a lot of things to be considered on time. These are
• Reservations (now being done online),
• Arranging for tourism trips,
• Booking hotels, etc.
It is recommended that the handling of the couples and groups should be best left to an expert who is a travel agent.

What to hunt for in travel agents?
There are some qualities of best travel agents. Before choosing them, you must decide you are choosing a knowledgeable and practiced agent or not. He can well facilitate you while traveling. So, here are some important aspects to consider

Travel experience
An agent who has his own travel experience to the place would have direct knowledge of things to visit. Therefore, he can suggest the best places to reside at the destination. These professionals even offer corporate packages for Andaman for the ultimate rejoice of those working in corporate houses

Certifications
Travel agencies are required to have a certification. Search online various options that help you choose the trustworthy agencies.

Speciality
Look for the speciality of tour packages and of course of the agent, the certain kinds of tours offered by him. Does the travel agent specialize in adventure tours or luxury travel or cultural tours in India?

Competent travel agents in Andaman have an edge over the details of the city. They can help you travel to the place in the best possible way by identifying what you need. They are also available for you when you come across any difficulty.
This entry was posted on January, 23, 2020 at 11 : 08 am and is filed under Andaman Tour Operator. You can follow any responses to this entry through the RSS 2.0 feed. You can leave a response from your own site.