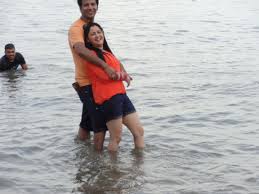 Andaman and Nicobar Islands are a group of about 600 islands on the east coast of India. In close vicinity of Thailand and Myanmar, this group of islands offers to the tourists an excellent refuge from the chaotic world. For the newlyweds, an exotic honeymoon package in Andaman is a dream come true. The beautiful, long cost line, the white powdery beach sand and the long expanse of water all around is the perfect ambience for love to blossom.
Travelling to Andaman and Nicobar Islands
Andaman and Nicobar islands are predominantly known to be a popular vacation destination. This is the reason why travelling to the islands is quite convenient with various tour operators offering cruise packages too. As a matter of fact, opting for a cruise travel to the islands would comprise the perfect honeymoon package in Andaman. When on a honeymoon here, there are quite a few places to visit apart from spending quality 'together' time at the resort you chose to stay at. Here are a couple of such places that you should definitely not miss out on –
Elephant Beach
The elephant beach is an ideal place to visit for the honeymoon goers. A magnificent spot for snorkelling or simply beach walking, it is a mesmerising experience to see the sunset with your better half. With outstanding oceanic views and a picturesque natural landscape, the impeccable tranquillity of this beach will melt your heart and get you closer to your partner. The beach also offer some very good activities for couples to indulge in including paragliding and others that will bring in some excitement to their honeymoon.
Mahatma Gandhi Marine National Park
If you are on a honeymoon package in Andaman, you surely wouldn't want to miss out on visiting the Mahatma Gandhi Marine National Park. Situated near Port Blair, this marine national park offers some stunning views, wonderful beaches and eye soothing, panoramic views that will leave you and your partner mesmerized.
Marriage is a sacred bond and for a couple who have just started a long life together, there might be several apprehensions. When they go out on a honeymoon, they tend to share a lot of romantic moments together which contributes to their bonding in future. If you are considering a honeymoon package in Andaman, you are sure to get the perfect romantic start to your marriage!