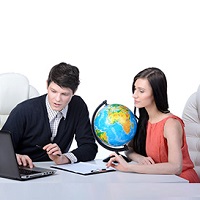 Holidaying is the best way to take a break from the hectic daily chores and routines, and relax. It rejuvenates the mind as well as the body making you more fit to continue with the work with a new enthusiasm. And if you are thinking of a perfect holidaying destination then, what can be better than our very own Andaman and Nicobar Islands. Lying in the Bay of Bengal, they are basically a group of several islands. Port Blair, one of the largest cities of the whole island group is also the capital of Andaman and Nicobar Island.
The capital city of Port Blair is just like any of the developing cities of India but its natural beauty and amazing beaches are something that makes it a perfect travel destination. The place has several beaches, national parks, historical artifices and amazing scenic locations that attract lots of tourists towards it. The presence of many adventure sports activities, museums and national parks make it more popular amongst those who look for a destination to enjoy with their family and kids.
Activities You Can Enjoy In Port Blair
Sightseeing On Beaches – The presence of many beaches like Collinpur Beach, Wandoor Beach, Corbyn's Cove Beach allows the visitors enjoy walking on the wet sands, enjoying the waters, and watching the mesmerizing sun rising and sun setting views. Walking past the beaches with cold breeze kissing your face is definitely an experience you would not like to miss.
Adventure Activities – There are many opportunities for the visitors to enjoy the water sports activities and other adventure sports such as paragliding, river rafting, boating, scuba diving, snorkeling, etc. You can also visit the Rajiv Gandhi Water Sports Complex if you want to enjoy some more water sports activities.
Educational Tour – You can take a tour to the Cellular Jail that stands a daring witness to the agonies of the freedom fighters and the atrocities that were inflicted on them by the Britishers. Besides, you can also visit Fisheries Museum and Samudrika Marine Museum to know about the exotic and varied marine life living in the waters of Andaman.
Avail the services of Emerald Tours & Travels to plan a tour to the amazing city of Port Blair. It is one of the trusted Tour Operators in Port Blair offering budget friendly Family Tour Packages. Besides working as a Tour Operator, it also provides services as Airline Ticketing Agents, Hotel Booking Agents and Car & Coach Rental Services to offer clients the best holidaying experience. Log on to www.andamanemeraldtour.com to know about the best deals for you.