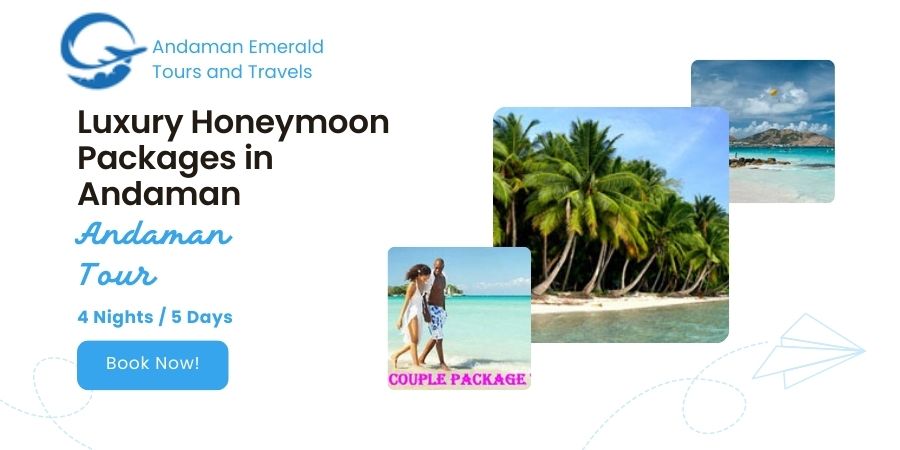 When it comes to Luxury Honeymoon Packages in Andaman only the finest should be trusted to arrange your itinerary and handle your booking. Explore the magnificent archipelago of islands like never before and prepare to be amazed on your honeymoon trip to Andaman.
One can enjoy an exciting visit to Corbyn's Cove Beach. Then In the evening, one can take in the captivating Sound and Light Show at Cellular Jail. Just imagine you and your spouse standing in front of a large ocean, the sound of waves relaxing your spirit, the smooth, white sands beneath your feet, the breeze on your face, the scenery straight out of a fairy tale, the surrounding coconut palms adding to the beauty of the entire setting. With the correctly designed Luxury Honeymoon Packages in the Andaman islands, one may experience all of this on the island's magnificent beaches.
Luxury Honeymoon Packages in Andaman provides luxury holiday packages in the Andaman Islands for honeymoon couples who do not have enough days to spend on the island but want to spend the most comfortable time possible surrounded by natural beauty. By choosing Luxury Honeymoon Packages in Andaman, the couple will be able to enjoy the benefits of both luxurious lodgings and adventurous activities.
When is the best time to visit Andaman?
Andaman has a temperate climate that is moderate and one can visit this place or plan a trip here at any time of year. However, the best time to organize a honeymoon in Andaman is between October and May. The winter season here lasts from October to March, which is also the greatest time to enjoy aquatic sports on Andaman's beaches. In April, there is also an interesting beach festival here that one can add to their trip when in Andaman.
Places of attraction in Andaman
Andaman is a lovely Indian archipelago with some of the most romantic spots to visit. Mentioned below are the spots that you shouldn't miss on your Andaman honeymoon.
● The Havelock islands
Havelock Island, known for its dive spots and beaches, is ideal for couples. It provides fascinating sports such as diving, snorkeling, kayaking, and more. Havelock is also an excellent alternative for a more laid-back honeymoon vacation.
● The Neil islands
The island and its surroundings are heavenly. The beautiful sand beaches here are ideal for nighttime walks with your lover. Swimming and diving are permitted in the quiet and pristine waters. Enjoy candlelight meals on the beach and romantic evenings on Neil Island for the ultimate honeymoon in Andaman.
● The little Andaman
Little Andaman is another lovely island to explore on your Andaman honeymoon. The gorgeous beaches here are ideal for spending quality time with a spouse. The beach resorts are gorgeous and provide all of the amenities. It is an ideal location for a romantic honeymoon in Andaman.
● The Cuthbert bay wildlife sanctuary
Cuthbert Bay Wildlife Sanctuary is a turtle-nesting site and is regarded as one of the top honeymoon destinations in Andaman. This animal reserve is best visited between October and April. At the magnificent Cuthbert Bay Wildlife Sanctuary one may see Olive Ridley turtles, Hawksbill turtles, spotted deer, and Leatherback turtles.