The Best Holiday Spot In India-Andaman
Posted by Admin on March, 25, 2015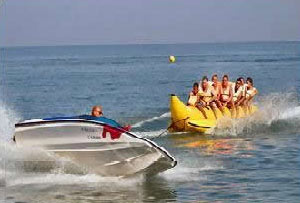 Andaman Islands-a place for serenity and relaxation! It is a haven of natural beauty and old-time charm. Though thousands of tourists visit Andaman every year, you will never feel crowded in any of the locations. That's what makes it one of the most secluded and private places in India to visit.

Andaman Holiday Destinations
The Andaman boasts of some dream destinations and some of the most fantastic beaches in the world. Some of these destinations include:


Port Blair: This is a small town and the capital of Andaman. It does not have any beaches and therefore people don't visit here much. But it has an old city charm and looks very quaint and peaceful.
Havelock Islands: It is also called the beach paradise as it comprises lots of beaches with its beautiful white sand. Radha Nagar beach was voted as the 7th best beach in Asia. It is also popular for snorkeling activities and Elephant riding on the beach front.
Neil Islands: It is a very quaint island situated outside of Port Blair. It is not a very popular island which contributes to its peacefulness.
Nicobar Islands: The Nicobar Island is a chain island arc in Indian Ocean and form an important part of the Andaman Islands.

Andaman Holiday Packages
Anyone coming to Andaman comes with a certain expectation and wants to enjoy their holiday in their own specific manner. That is why, there are different Group Packages catering to different people who wish to enjoy at their own accord.
Couple Packages For Andaman: For the couples who like to enjoy their own privacy, there are special couple packages to Andaman. Booking a shack near the beach to live in, lazing around the beach all day and then watching unspoiled sunsets, would make for a great life memory.
Corporate Packages For Andaman: Andaman receives many company retreats and conferences. Though it is not very big and famous for company meetings, there is excellent infrastructure throughout. And with a breath taking view outside, it will only boost the morale of all the workers.
Family Tour Packages Andaman and Nicobar Islands: When visiting with family, everyone has different interest and different activities to do. This package will take the whole family through all the major islands and provide them service for doing activities like snorkeling.
Tour Packages For Port Blair: Port Blair is a small town in the Andaman Islands which does not get the attention of most tourists. However it is a favorite with some people because of its rich history and amazing markets.

If you prefer luxury as the top most priority and yet wish to enjoy the small hustle bustle of the city and roam around in beaches, Andaman is the place for you. So book a holiday package now for Andaman and Nicobar Islands and have one beautiful vacation.