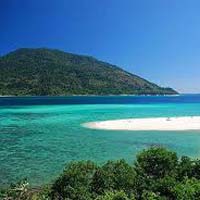 Imagine yourself diving in the blue waters with colorful fishes, artistic corals and structures around giving you a feel of being alive and a new outlook to the life itself. But, hang on! Why imagine if you can experience all this in real. The land of Andaman and Nicobar Islands with the surreal golden beaches and unending beach lines is the best place where you can bring your imagination to life. The place has not been much explored but is slowly gaining its place as one of the perfect tourist destinations. Shimmering like gems in the bay of the Bengal, the Andaman and Nicobar is a group of islands comprising of about 572 islands out of which only few are inhabited by people.
About The Andaman and Nicobar Islands
The existence of the island dates back to Middle Paleolithic age but it was totally isolated from the world till the 18th century CE. Since then, it has imbibed within itself the reminiscences of the Chola and Maratha Empire and most prominently, the spiteful memories of British colonization and World War II. It is inhabited by the several indigenous Andamanese tribes besides the migrants from Bengal, Tamil Nadu, etc. Vir Savarkar Airport in Port Blair is the only airport in the whole island group to reach at this amazing place.
Tips To Plan A Trip To Andaman and Nicobar Islands
The first thing you need to do is to select a reliable Tour Operator. For this, you can take the help of the Internet. Also, you can consult your friends to come across the Best Tour Operator in Andaman.
Take all the details about the Andaman Tour Packages so that you can choose the best for according to your budget and preferences. A number of Tour Operators in Andaman provide customized Tour Packages such as the Honeymoon Tour, Family Tour, Cultural Tour, Adventure Tour and several others from which you can make your choice.
Know about the accommodation you are provided and whether the food expenses are included in it or not. You can always give your inputs and make some changes in the package according to your preferences.
Make sure that the tour operator is providing all the services that you require like hotel booking, car and coach rental to make it much easier for you. But, ensure that you are not paying extra for the services so; get it compared with the rates of other tour operator.
Emerald Tours & Travels is the right name for you if you are planning a trip to Andaman and Nicobar Islands. Based in Port Blair, it is a reliable Tour Operator offering budget friendly Family Tour Packages, Honeymoon Tour Packages, Heritage & Cultural Tour Packages and many more. Besides, it also offers Airline Ticketing, Hotel Booking and Car & Coach Rental Services at the most affordable rates. For more details, log on to www.andamanemeraldtour.com.