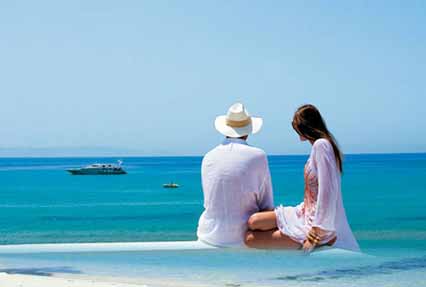 Andaman is paradise on the earth for honeymoon goers, as it includes many romantic places where a couple can spend a quality time away from the hustle and bustle of city life. It is an island located in the Bay of Bengal. Andaman consists of several beaches which are world famous because of their natural beauty and serenity. This Island is famous for offering various water sport activities like scuba diving, jet skiing, banana ride, boat ride, sea walking under water world. Man-made tunnel of thick man-groove forest and various adventure activities under the sea make this island a highly sought-after place by the newlywed coupled from different parts of the world. The best months for visiting Andaman is between December to May. There are few places which are a must visit and worth seeing, like:
Radhanagar beach – Asia's best beach
Jolly buy beach
Rose Island
Laxmanpur beach
Elephant beach
Keul beach
Samundura beach
Chidiya tape
Cellular jail
There are various packages for Andaman especially for honeymooners. Apart from this exotic views from the hotel room, cakes and flower bouquets add to the memorable experience. All these things can make any couple fall in love all over again. It also includes travel by cruise on different beaches. Many water sport activities also add to its star attractions like scuba diving, sea walking and snorkelling to add further joy to the trip.
Things to keep in mind while booking a travel package
1. Be clear what do you want: One should create a list of to do's on the tour as a travel agency will not look after each and everything. To avoid last minute confusion, we should make a rough draft of the travel plan.
2. Get an idea with google: Research should be done before planning a trip. Enquire from 2-3 agents to know deals and discounts running in the market.
3. Round trips are conducive: It is better to book a round trip if you plan to travel various places on a single trip. Round trips are cheaper so it is better to book flights in a way that we depart and arrive at the same airport.
The price of a honeymoon package in Andaman depends on the airfare, star category of hotels, rent charges of car for sightseeing, and many other factors. The Andaman island tops the chart of worlds best tourist attraction. Many people from all over the world come to visit the places.
Thus, we can conclude that the Andaman Island has emerged as the favorite tourist destination of a number of honeymoon couples.