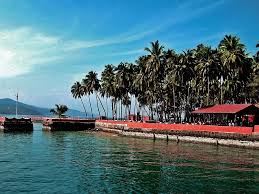 Port Blair, the capital of Andaman and Nicobar is located in the Bay of Bengal. This is the capital city of Andaman and Nicobar Island. The name of this city has been given against Lieutenant Archibald Blair, who in the year 1789 established a colony here. It is a home to various sightseeing place like Cellular Jail, Chidiya Tapu, Gandhi Park, Marina Amusement park, Zsi Museum as well as water sports complex.
This place is a perfect tourist spot. People not only from India but, all across the world come here to enjoy the pristine beauty of this place. The tour packages for Port Blair allow the visitor to dive into the natural beauty, unlimited adventures, and several historical sites. This place has played a massive role in shaping the Indian subcontinent's history. Cellular Jail is one of the major attractions of this place. Also known as Kala Pani, this jail is popular because all the freedom fighters were imprisoned here and were tortured massively. Other attractions of Port Blair are national memorials, beaches, parks, activities like scuba diving, harbor cruise etc. Rangat Island, Havelock Island and Karmatang beach add more delights to the Andaman trip.
Port Blair, the most exotic and peaceful city is known to attract tourists from all across the country. Be it families, honeymoon makers, couples or sports enthusiasts, this place has something for all. Wide stretch of colorless sand, blue lagoons, aquatic life altogether has made this place a real paradise. Corbyn's Cove, Jolly Buoy is the popular beaches that allow the sports enthusiasts to swim for hours and hours. One can take a trip to Ross Island and can have a sight view of the remains of bungalows, ballrooms, cathedrals, exclusive clubs as well as confectioneries. One can also listen to the church bell ringing, and can also breathe the sweet fragrance of baked cakes and bread.
The tour packages for Port Blair Andaman is exclusively designed based upon the customer's interest. There are all types of packages starting from the highest to the cheapest one. It is better not to select the package blindly. The tourist agencies must ensure that the customer taking packages from them should have the knowledge of the itineraries present it.
Thus, to conclude taking a trip to Andaman is similar to visiting heaven. And Port Blair is no less than it. This place is perfect for all those who want to keep all worries aside and just want to dive into the pristine beauty of nature.