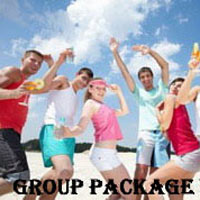 Planning a wonderful trip to Andaman is no trickier task. Several tour packages according to the demand of visitors are available with numerous tour and travel companies. They offer tour packages on demand as well as customized. These packages are made according to different spectrums of taste, benefits, interests, demands and travel styles. Special tour packages are available like group tours, independent, family and self-planned tours to Andaman.
Why Andaman?
It didn't take much to think about Andaman as a hot favorite destination if you are an adventure-lover. One can enjoy an assortment of activities from trekking to trailing and diving to surfing on Andaman tour. If you happen to be an enthusiastic traveler and looking for a throbbing holiday experience, then take a flight to Andaman or book any type of tour package mentioned below.
Group Tour Packages: In this, you are offered with a chart of locations from which you can select your preferred one. You also need to mention the number of people, including the adults, infants, and children. This database is important for offering a customized group tour package. Also look for all other tourists moving on this database so as to finalize a cost for the Emerald group packages.
Independent Tour Packages: If you want to go alone on a trip to Andaman or with your friends this package is your choice to make. All you need to do is search online in advance with all your requirements to any renowned travel agency in the market.
Family Tour Packages: If you are planning to spend your holidays with your family, then go for a good traveling expert. Send an inquiry telling about your present location, destination, the date on which you need to travel to any place in Andaman, accommodation, and a number of visitors including adults and children. They can arrange everything for you.
Emerald Group Packages
Designed especially for more than two people, this package is quite beneficial for a family of friends outing. Although designed for 8 to 10 days, you can get it customized according to your demands. The destinations covered are Ross Island, Havelock Island, Neil Island, Baratang Island, and Diglipur. The package cost depends on the time span and the person you decide to travel.
The benefits of choosing group tour packages
1. Saves a lot of time
2. Suits every budget as per requirements
3. Tour operators to assist
4. No painful searching for details
5. Tensionless bookings of flight and hotels
Actually, the experts economize a lot of money and time while offering any type of tour package to you.