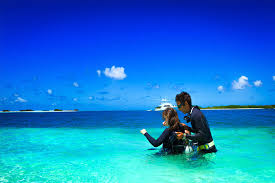 For all those who have recently tied the knot with each other and looking for the best place to give a romantic feeling to the relationship, the island of Andaman seems the worth place. Dense forest, refreshing hills, as well as lush green vegetation, altogether makes this place pristine.
Andaman, the island of sand, islets, and rocks is a magical island situated in the middle of Bay of Bengal. This place is known for its serene beauty and is considered as nature's paradise. Never ending stretch of powdery sand, curved shaped beaches with groves of palm and everlasting varieties of flora and fauna make this place a perfect destination for pleasurable as well as memorable holidays. It is one of the most sought-after destinations for enjoying the most blissful vacation. Availing honeymoon packages in Andaman allows the honeymooners to enjoy amidst the serene natural beauty. Some of the major attractions of Andaman Island are:
Cellular Jail is one of the most popular monuments of India. Constructed in 1906 in Port Blair, this is Asia's largest prison where Indian freedom fighters were kept and tortured. This place is also known as Kala Pani. The jail comprises of three floors and 698 rooms.
This popular destination is located about 29 km away from Port Blair. Encircled by 15 islands, this beach is the most enthralling destination for a tourist visit. Another popular attraction is Mahatma Gandhi Marine National park which comprises of deep-sea animals, coral reefs as well as mangrove forests.
Adventure Activities
Not only Andaman is full of scenic beauty, but, also has a number of adventurous activities. For all those who love sporting, this place is the perfect destination, as it has beach tours, camping, Trekking, Creek Safari, Scuba diving and lots more.
Booking honeymoon package in Andaman requires enough research. There are a number of travel agencies that offer honeymoon packages. These agencies must ensure that the customers booking from them must have travel free journey and should get all possible amenities that is required to make the visit comfortable.
Thus, to conclude, honeymoon at Andaman is the best possible way to give a beautiful start to the newly married life as it will charge the sense of imagination. Despite the fact that it is a small island, it has no shortage of beautiful attractions. Exotic food and excellent hotels altogether make this place worth for visiting.