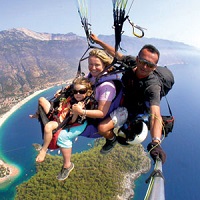 Probably, the most explored tourism sector in India is the union territory of Andaman and Nicobar Islands, The area comprises of 300 islands known for white sand beaches mangroves and rain forested interiors. Andaman and Nicobar Islands offer you the most staggering travel destinations, as here you will never be disillusioned when you experience this rundown of things to do in Andaman. The spectacular Island of the Andaman brings a palette of delicious dishes for you to eat, awesome views of the beaches, along with the great adventurous activities and a wonderful scenic beauty.
BEST TIME TO VISIT
Well for such pleasant places like the Andaman Islands, time is the last thing that people consider as it remains an unparalleled tourist destination all throughout the year. Though having said that, every season brings with it something extra that adds on to the scenic beauty of the island. In winters the island stays pleasant for the most part. It's the best time to enjoy water sports and other water activities. If you want to witness the culture and tradition of locals in the Andaman, visit the place in January. A lot of fairs and festivals will keep you busy on your trip. The Andaman witness heavy rains throughout the monsoon season, but the Andaman have a distinct beauty of its own in the rains. Summers is also a good time to visit Andaman and Nicobar Islands as the weather remains quite pleasant and mildly warm.
BEACHES AND ISLANDS ONE MUST NOT LEAVE WITHOUT VISITING -
The area comprises of 300 islands known for white sand beaches and rain forested interiors. The islands are surrounded by coral reefs, supporting a variety of marine life including rays, Sharks, etc. Here are the 5 most liked ones.
1. Radhanagar Beach, Havelock Island
2. Ross and Smith Island Beach
3. Laxmanpur Beach, Neil Island
4. Ramnagar beach is situated on Diglipur Island
5. Kala Pathar Beach, Havelock
OTHER ATTRACTIONS
- Marina Park and Aquarium- Located at Port Blair
- Cellular Jail - Also known as Kaala Paani (black waters), located at Port Blair
- Mini Zoo - Mini Zoo is a small Zoological park situated at Haddo in Port Blair, Andaman, and the Nicobar Islands.
- Chidiyatapu - Located at the southernmost tip of South Andaman, 30 km from Port Blair, Chidiyatapu is a lush mangrove forest with a large number of birds.
- Limestone Caves - Located at the Baratang Island
FOOD TO EAT
Some of the food joints in Andaman offer the fresh(est) seafood. So, any seafood lover must indulge in the treat. If you're looking for affordable yet delectable meals, many tiny local restaurants serve healthy Indian thalis at reasonable prices. Many local joints also offer Italian, Thai and Continental cuisine.
THINGS TO DO
Water sports such as snorkeling, scuba diving, windsurfing, and water skiing are extremely popular with tourists.
Oceanside camping and hiking is possible on some islands.
Trekking to Madhuban
Relaxing at Radha Nagar Beach
Sea Walking at North Bay Island
Bird Watching at Chidiya Tapu
Experience different modes of transport in Andaman.
Adventure Tour Packages in Andaman
Andaman is a one-stop destination for all your travel plans. There are many travel agencies that are providing affordable adventure tour packages in Andaman. These travel agencies do realize the varied requirements of clients and thus offer different packages for individuals, couples, family, and groups. With their specialization in the field, they ensure that every traveler gets a chance to experience the wonders of Andaman to the fullest, irrespective of the budget he/she has. Therefore you must book a package with a travel agency if you want a holiday experience you will never forget.