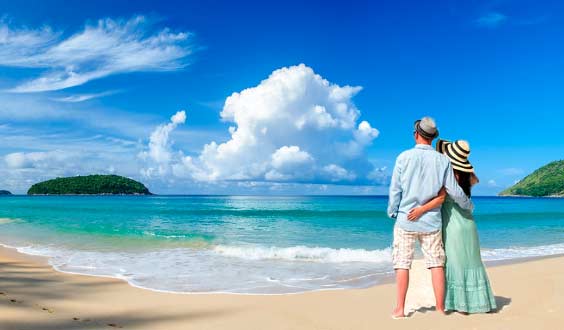 A visit to an island such as Andaman, which is a nature's paradise itself, is very exciting and awe-inspiring. It is an excellent spot, especially for newly married couples to spend time with each other in this romantic destination. The Andaman Islands are an archipelago of more than 572 islets, rocks as well as islands, and are really very stunning. A holiday in the extravagant islands of Andaman is a good decision, as it provides astonishing holiday experiences. The tour operators also make available special Honeymoon Package in Andaman for couples.
Why Couples Must Go to Andaman Islands
The beaches in Andaman are very beautiful with white powdery sand all over. It is an exceptional destination for honeymoon couples to enjoy special moments with their loved ones. The greenery and marine life all around makes this destination a blissful place for honeymoon couples to experience an unforgettable holiday. There are tour packages available even for families and groups to spend their vacation in this striking destination. The primary advantage tourists can avail of by opting for these tour packages is that they can experience the marvel of these islands to the fullest. Tourists can spend their time by taking part in a lot of adventurous activities on these islands.
Facilities Provided by Tour Operators
There are a lot of companies in the tourism industry that are very reliable, and offer alluring packages. The Honeymoon package that is specially designed for the couples is designed keeping in mind their special needs as well as requirements. The preference as well as the comforts of the couple are also taken great care of. The duration of this special package is about 8 days and 7 nights, and they get to visit beautiful destinations like Port Blair, Havelock Island, Mount Harriet, Neil Island, as well as Ross Island. The agents very carefully design the itinerary, and try their best to incorporate exclusive destinations for the honeymoon package. The tour operators take care of the accommodation, meals as well as transportation to these places for their customers, to make their trip a memorable one.
The services of the tour operators are commendable, and one can choose their package according to their budget also. The tour operators try their best to make your holiday a purposeful one, and this earthly paradise is definitely an amazing destination which nature lovers should visit. It is a great destination for beach walking as well as to experience oceanic views.