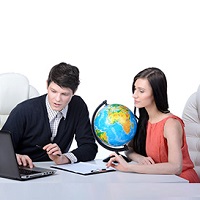 One of the most exotic destinations of the world, Andaman and Nicobar Islands is situated in Bay of Bengal. It is a major Union territory of India and it comprises of 527 small and large islands. All these islands are covered with dense forests that enhance the beauty of the place.
The Andaman and Nicobar Islands is a true heaven for those who love nature. The beauty and bliss showered by this place plays an important role in attracting tourists every year. Listed below are some major tourist attractions offered by this place:
Beaches
Corbyn's Cove Beach
This beach is a coconut-palm-fringed beach which is ideal for sun basking. It offers a number of facilities such as hotels, restaurants and bars. On the way to this beach, historical remains such as Japanese bunkers can be seen. The Snake Island is also situated across the beach, and it is famous for scuba diving.
Wandoor Beach
Wandoor Beach is famous for swimming and coral viewing. From this beach, you can also go to Mahatma Gandhi Marine National park by boat. Tours and packages are also available to Wandoor from Andaman Teal House, which is located in Port Blair.
Museums
National Memorial Museum
Constructed by the Britishers in 1906, National Memorial Museum is a three- storeyed museum that is a pilgrimage destination for freedom fighters. This museum is known to witness the violence which was borne by the convicts. Their patience and struggle made them freedom fighters. This place is now dedicated to the nation as a memorial of these fighters.
Anthropological Museum
The Anthropological museum is an ethnographic museum which illustrates the different tribes of Andaman. It shows the four Negrito Tribes of the Andamans: the Jarawas, Sentinelese, Great Andamanese and the Onges. It also shows two Mongoloid tribes of the Nicobar: the Nicobarese and the Shompens.
Festivals
Island tourism festival
A fortnight long festival is organized by the Andaman & Nicobar Administration every year in December. This festival is very colorful, and it gives a festive look to the Islands. During the festival, different exhibitions are organized, and these are attended by government agencies and private entrepreneurs. Cultural artists and performers from all across the globe are invited to perform during the festival. Water sport competitions are also organized. Other attractions of this festival include magic show, baby show, puppet show, dog show and scuba diving.
For the best Family Tour Packages In Andaman, you can contact a well-known Tour Operator In Port Blair.