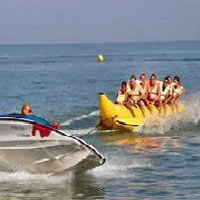 Andaman attracts all types of tourists, be it the backpackers, honeymoon couples or families. There are many exotic places where one can see nature's hands at work. Rose Island is a very famous island where one can reach via ship. Havelock Island is the most beautiful island on the Andaman Island.
Places to visit in Andaman
1. Bharatpur beach: It is famous for its coral reefs and white shores. It is situated near Neil Island. Mornings and evenings are the best time to visit these beaches. It is good for people who would like to go snorkeling.
2. Radhanagar beach: It is situated on the western coast of the Havelock Island. It is famous for sports rides like scuba diving, boating, fishing, snorkeling, etc.
3. Marina Park and Aquarium: It is managed by the Indian navy. It was created with the purpose of increasing awareness about the conservation of aquatic life.
4. Cellular jail: It is also known as kaalapaani. It is located in Port Blair. The building consists of 7 wings designed in a criss-cross pattern. The main objective to build this jail was to lock the prisoners in a solitary confinement.
5. Limestone Caves: They are located in the Baratang Island. It is a natural wonder, which leaves the tourists marveled with its scenic beauty. Access to these caves requires a fun and memorable speed boat ride.
Things to keep in mind while booking a holiday tour package in Anadaman
1. Be clear what do you want: One should create a list of to do's on the tour as a travel agency will not look after each and everything. To avoid last minute confusion, we should make a rough draft of the travel plan.
2. Get an idea from the internet: Research should be done before planning a trip. Enquire from 2-3 agents to know deals and discounts running in the market.
3. Popular is not always the best: Some places become popular because they spent on advertisement.
4. Round trips are profitable: It is better to book a round trip if you plan to travel various places on a single trip. Round trips are cheaper so it is better to book flights in a way that we depart and arrive at the same airport.
5. Run before time: One should book tickets in advance as flight fares and hotel rates are cheaper. If we book at the last minute, one has to adjust in the price they offer.
6. Pick only a 24x7 open travel agency: It is better to book with that travel agency which is open for 24x7.
The travelers should search for the best holiday tour package for a marvelous trip to the Andaman Island.