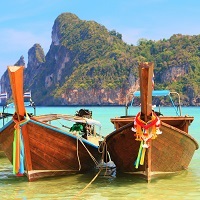 One of the last remaining virgin rainforest islands in the world, The Andaman and Nicobar Islands are situated in the Bay of Bengal. These islands are part 500 odd islands with a beautiful world of ancient tribes and unforgettable view of calming beaches, peaked mountains, evergreen tropical forests mesmerizing sunrise and sunsets. It is well-equipped with numerous hotels and restaurants for a perfect holiday experience. It is a less-populated island in the world. It is visited by tourist from all around the world throughout the year but the Island attracts more tourists from countries like Sri Lanka, Bhutan, Maldives, Thailand, United Kingdom, etc.
There is no particular season in around there. It can turn out to be very hot and humid at times or it can rain anytime. As the Andaman Island accommodates a number of beaches, many beach island tours are offered by the travel agencies. These tour packages generally depend on the amount of money the person is ready to spend, no. of days the tourist have to roam around in the city, etc. The beach island tour packages in Andaman are generally inclusive of the fares of the air tickets, food expenses, city tour charges, hotel room rent, and much more depending upon the type of package, a person opts for.
The two most popular beaches of the Andaman Island are as follows-
1. Bharatpur beach: It is famous for its coral reefs and white shores. It is situated near Neil Island. Mornings and evenings are the best time to visit these beaches. It is good for people who would like to go snorkeling.
2. Radhanagar beach: It is situated on the western coast of the Havelock Island. It is famous for sports rides like scuba diving, boating, fishing, snorkeling, etc.
Apart from the beaches, the Andaman Island is highly applauded for various other tourist spots like the Cellular Jail, Limestone Caves, Marina Park, and much more. People from all over the world visit these island for its adrenal boosting adventurous activities that are functional on the beaches like snorkeling, paragliding, scuba diving, underwater walk, the speed boat rides, cruises, and much more. The sports activities carried out on this island are highly safe, as proper and updated safety equipment like live jackets, harness, etc. are duly used under the supervision of trained professionals.
To explore this inimitable place in true respects, it is highly paramount to opt for a comprehensive beach tour in Andaman.