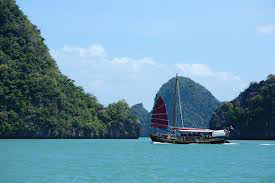 Port Blair is the gateway to the serene islands. And now this island town, as a tourist destination is getting a considerate attention among people. It has become a shining example of beauty and outstanding extravaganza. The sights of the history and culture of this union territory invite many to its land. Port Blair is also cashing in the water sports and adventure tourism including trekking, snorkeling, scuba diving, island camping. The Aberdeen Bazaar forms the heart of the town. Other happenings that the traveler can enjoy at Port Blair are:
• Sea Aquarium
• Water Theme Park
• Wave Surfing
• Marina Yacht
• Convention Centre
• Health Resorts
• Sanctuaries
• National Park
Tour packages by the travel agents and companies have enabled people to organise a hassle-free journey to domestic as well as international sites. This kind of sight-seeing has become the new way of living life. People wishfully spend their hard earned money to travel across the cities and oceans. They carefully see the packages and decide on the lowest fare because they wish to visit the never seen before lands. Because they want something that is pocket-friendly as well as helps to see the place in totality. To experience it all they prefer to buy the tour packages by the significant tour and travel agencies. But have a tough time to decide the ultimate tour package because of the difference in the offerings of the tour packages.
Tour packages include, but are not limited to:
• Hotel Booking
• Flight Booking, Or Travel By Bus Or Train Reservation
• The Itinerary
• Tour Guide
• Details of Transport operators at the destination etc.
The tour packages are explained so nicely that it seems the person has already visited the destination. The tour packages thus lure the traveler inside every person.
Thus special budgeted and expensive packages are provided as tour packages so as to ensure a comfortable stay and to discover the beauty of Port Blair.
The travelers can book any of the desired tour packages for themselves:
• Family Tour Package
• Romantic Getaway/ Honeymoon Tour Package
• Luxury Tour Package
• Sea beach Tour Package
• Dive in Tour Package
• Couple Standard Tour Package……. and many others
The tour packages thus should provide a deep understanding about the island. And about the worthy sightseeing places in and around Port Blair namely: Gandhi Park, Science Center, Mount Harriet, Madhuban, Chatham Saw Mill, Cinque Island and others. The traveler can also customise the tour package according to their wish list. The tour packages for Port Blair by the native agency is the best one to opt for.
Thus the tour package for Port Blair must be chosen well to have the sincere and awestruck experience of the place. The one that is high on information regarding the trip, cost, sightseeing places, activities, and the required documents.