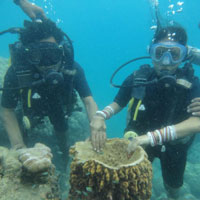 Honeymoon is a special, luxury vacation that people undertake to please or enjoy with their spouse, immediately after their marriage. Special places are usually chosen, most likely outside ones country, to enjoy and have fun in solitude. Honey moon package in Andaman welcomes all people all over the world to come and have fun with their spouses. Andaman is known for its spellbinding beauty that amazes every visitor who steps there. Hence, if you are thinking of visiting the Andamans on your honemoon, then first, get your package details, pay for it and then wait for the wonders to amaze your eyes when you reach here.
Constituents of the package
It's an eight day, seven nights package, but trust me, these shall be like two days to you. Once you land in Andamans, a warm welcome by one of the finest workers will be offered to you. You will start experiencing the heaven like environment as you are being driven to your five star hotel to relax and remove the journey boredom. The strategic location of the hotel, also enables you to have a clear view of all the natural surroundings, and inculcates a feeling of royalty. You might be tempted to start taking photos.
After the first night, you will then be taken to the first destination that you choose, where you will experience the real natural beauty of Andaman. Oceans with blue waters will further tempt you to go for water surfing. Nice white sand beaches coupled with green environment will make you feel like you have entered in to a new world. Beautiful creatures of all colors singing and dancing add to your satisfaction. Involve yourself in the traditional dances of this area, watch how beautiful they dress; surely it's a place you would not like to leave.
Your six days remaining will be full of activities. You will not be entitled to one place but rather many places that are unique in their own way. Just make sure that you respect your schedule of visit and touring because you might end up refusing to tour the other places to enjoy at one place only. Make your spouse happy and make sure they love you for the rest of their lives for taking them here. This is a place where even kings are dreaming to have their palaces built here. Come have fun and enjoy the luxurious facilities.
About Author
Author is representing this article on behalf of, Emerald Tours & Travels, is the right choice, and you are at the right place! we have Packages For Port Blair, Corporate Package in Andaman, Couple Package for Andaman, Group Package for Andaman, Family Tour Packages, Honeymoon Packages & many more.