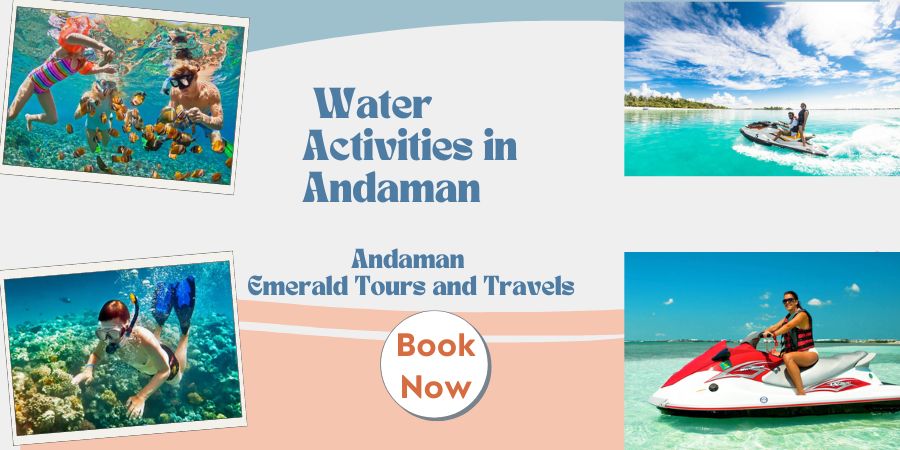 If you wish to play with water, you can choose water activities in Andaman. This place is perfect for a weekend getaway.

Are you planning a holiday tour that can allow you to enjoy the water activities? Well, a tour of Andaman (India) can do wonderful things for you. No matter, if you are going on a honeymoon with your partner, a holiday with family, a group holiday with friends, or simply a weekend getaway, going to Andaman, can be a good choice for you. Located in the Bay of Bengal, Andaman is a perfect destination for water sports lovers.

Andaman is a picturesque archipelago for water sports enthusiasts With its crystal-clear waters, dramatic coral reefs, and varied marine life. The packages offered by the travel agents include several amazing water activities that bring a level of satisfaction to everyone, from a small kid to an old person.

Let's discuss some of the popular water activities enjoyed by tourists here:

Snorkelling:
If you love to enjoy a laid-back water activity, go snorkelling without any doubt in your mind. To do the activity, all you need is a mask, snorkel, and fins to witness lively marine life just under the surface of the water. For this activity, a traveller needs to visit North Bay Island, Havelock Island, and Neil Island. Here, you can easily find coral gardens and different fish species.

Scuba Diving:
It is another activity that allows you to explore the charming underwater world. The islands enhance some of the most popular dive locations in the world. Here, you can look ahead to exciting coral reefs, eye-catching fish, and even splendid marine creatures. Travellers can easily find turtles, manta rays, and sharks. If you are a beginner, you can take small dives that are too difficult for expert instructors. On the other hand, you are certified divers; you are allowed to delve deeper into the ocean.

Sea Walk:
Even if you do not know how to swim, you can easily experience the thrill of walking on the ocean floor with a sea walk adventure. All you need to do is wear a special helmet that lets you breathe easily underwater. You can stroll along the sandy seabed and interact with marine life without the need for any diving tools.

Jet Skiing and Water Sports:
Thrill-seekers can get their adrenaline pumping with jet skiing and other water sports such as wakeboarding, water skiing, and banana boat rides. Some of the beaches in Andaman offer these activities, permitting visitors to indulge in some high-speed fun over the waves.

Enjoy the fishing.
If you are interested in comfortable water activities, you can try your luck with deep sea and sport fishing activities. Fishing lovers can try their luck with both deep-sea and sport fishing ventures. Andaman's waters are home to a variety of fish species.

Andaman's perfect beaches and crystal-clear waters make it an ideal playground for a broad range of water activities. From scuba diving, snorkelling, sea walking, and kayaking, there's an adventure for everybody.